Thank you to everyone who joined t
he Association for Public Art (aPA) on October 14th for our virtual DesignPhiladelphia 2021 event,
Public Art by Design – an exploration of the role of architects and landscape architects in assisting artists to realize their vision of creating public artworks. Watch the event below!
Moderated by Susan Myers, aPA's Assistant Curator & Project Manager, the talk covered permanent aPA public art projects in Philadelphia that were realized with the help of design professionals. Such projects include the recently installed Maja sculpture by Gerhard Marcks, which is the focal point of Maja Park at 22nd Street and the Benjamin Franklin Parkway. Landscape architect Julie Bush of Ground Reconsidered, the firm that designed this newest park on the Parkway, shared their process. 
Architect George Claflen of Claflen Associates Architects + Planners also joined the conversation to discuss their role in the implementation of Common Ground by Lonnie Graham, Lorene Cary, and John H. Stone.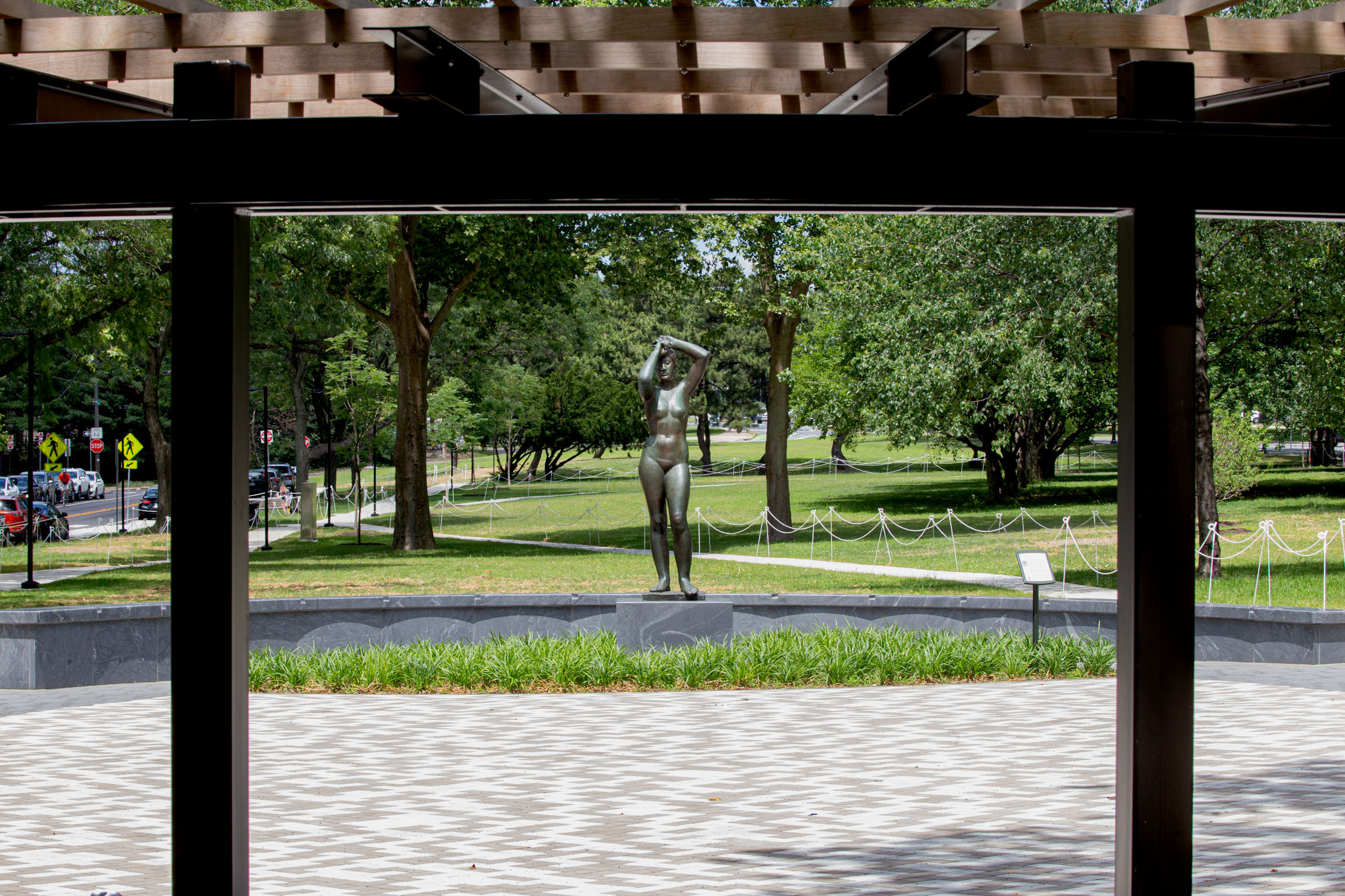 ABOUT THE PANELISTS:
JULIE BUSH, ASLA is a principal at Ground Reconsidered, Inc,  a woman-owned landscape architecture practice dedicated to realizing engaging, beautiful and memorable places. Julie's notable recent project experience includes the design for Maja Park along the iconic Benjamin Franklin Parkway; The Discovery Center in Fairmount Park; multiple projects for the City of Philadelphia's Rebuild Initiative; and the award winning Masterplan for the Penn Alexander School. Julie received her MArch from McGill University and BLA from Clemson University. She has established herself as a well-respected presence in Philadelphia's design community serving as a guest critic for design juries and panel discussions.  She is a registered Landscape Architect in Pennsylvania, New Jersey and South Carolina.
GEORGE CLAFLEN, JR., FAIA is a fellow of the American Institute of Architects, and earned his B. Arch at MIT and M. Arch and M.C.P at Penn. He taught at Temple University's Tyler School of Art and Architecture where he was the chair of the architecture department and a professor for 30 years. He has practiced architecture in Philadelphia where he designed the CORA Services multi service center, the largest such building in Philadelphia's northeast. He is a founder and a vice chair of the Design Advocacy Group. (DAG) Fascinated by the way that architecture shapes our understanding of place and history, he wrote about the development of schemes to change the setting for Independence Hall in "Framing Independence Hall" that appeared in Places Journal Winter 2000.  He has a great love of public art and the architectural work that often contextualizes it.
SUSAN MYERS is the Assistant Curator & Project Manager for the Association for Public Art (aPA) in Philadelphia, PA. Since 2003, Myers has worked directly with artists, design professionals, contractors, and municipal and community stakeholders to realize both temporary and permanent contemporary public artworks. She oversees all areas of project management from artist selection and proposal development to project implementation and completion. Myers has worked with local, national, and international artists coordinating logistical and technical project needs while ensuring that high artistic standards are achieved.