At A Glance
Artwork refers to Thomas Jefferson's Monticello home, where all the roads and paths are called "roundabouts"

Adams transformed the landscape using sculptural and architectural elements, mounds of grass, plantings, pathways, and a water wall

Adams interplay between art and design provides moments of seclusion as well as opportunities for gathering

As the seasons change, so do the plantings, creating different moments of openness or seclusion depending on the time of year
In a one-acre area at the Bluemle Life Sciences Building on Thomas Jefferson University's campus, The Roundabout encompasses the landscape – it is the landscape. Completed in 1992, artist Alice Adams was commissioned by the University through the Philadelphia Redevelopment Authority's Percent for Art Program. Responding to the site's slight change in elevation, Adams transformed the landscape using sculptural and architectural elements, mounds of grass, plantings, pathways, and a water wall.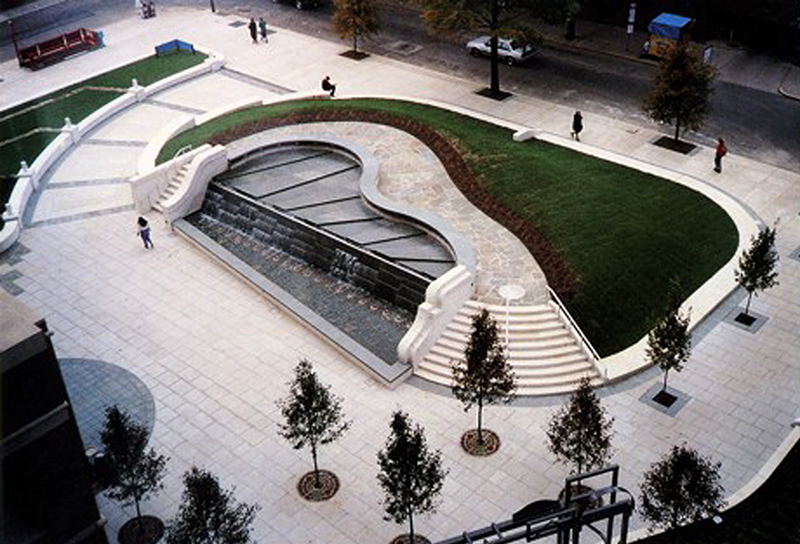 The complex work refers to Thomas Jefferson's Monticello home in Virginia, where "roundabout" is a term used for roads and pathways. The title also captures how the public regularly moves through the space. "My later work challenges people. It seduces them. They don't know if it's art, sculpture or something else. And you have to give them something once you've drawn them in," says Adams.
The design features low curving walls that form a perimeter around a large mound of grass, and a water wall that cuts into one side of the mound. The water first flows slowly and smoothly before tumbling over panels of stone, creating a waterfall and illuminated pool. Paths surrounding the mound and water feature are punctuated with trees, and stairways on either side of the water lead to a stone path on top of the mound.
In addition to its nod to Monticello, the northwest corner of the design makes reference to Philadelphia's architecture. An outlined configuration of lit doorways and stoops with railings creates a framework that recalls the many rowhomes nearby – a recognizable part of the city's architectural fabric. The rowhome-like openings lead to a separate courtyard with green, pink, and white granite pavings in the shape of Monticello's great lawn. Adams interplay between art and design provides moments of seclusion as well as opportunities for gathering.
In addition to the architectural gestures incorporated into the composition, botanical elements play an important role. Plant imagery, which is historically critical to medical care, has been etched into bronze plates and set into the paths. Layers of shrubs, trees, and groundcover create a thicket in the southeast section of the plaza. Pear trees, maple trees, boxwood hedges, holly, day lily beds, and other groundcover envelop more areas. As the seasons change, so do the plantings, creating different moments of openness or seclusion depending on the time of year.
RESOURCES: