At A Glance
One of the most influential African American leaders in Philadelphia during the 19th century, Catto was a scholar, educator, Civil Rights activist, and athlete

Commissioned by the Octavius V. Catto Memorial Fund and unveiled on September 26, 2017

The City Hall site inspired artist Branly Cadet to create a memorial that highlighted Catto's political efforts in the city
Commissioned by the Octavius V. Catto Memorial Fund, A Quest for Parity: The Octavius V. Catto Memorial represents a fifteen-year effort to bring a Catto memorial to Philadelphia.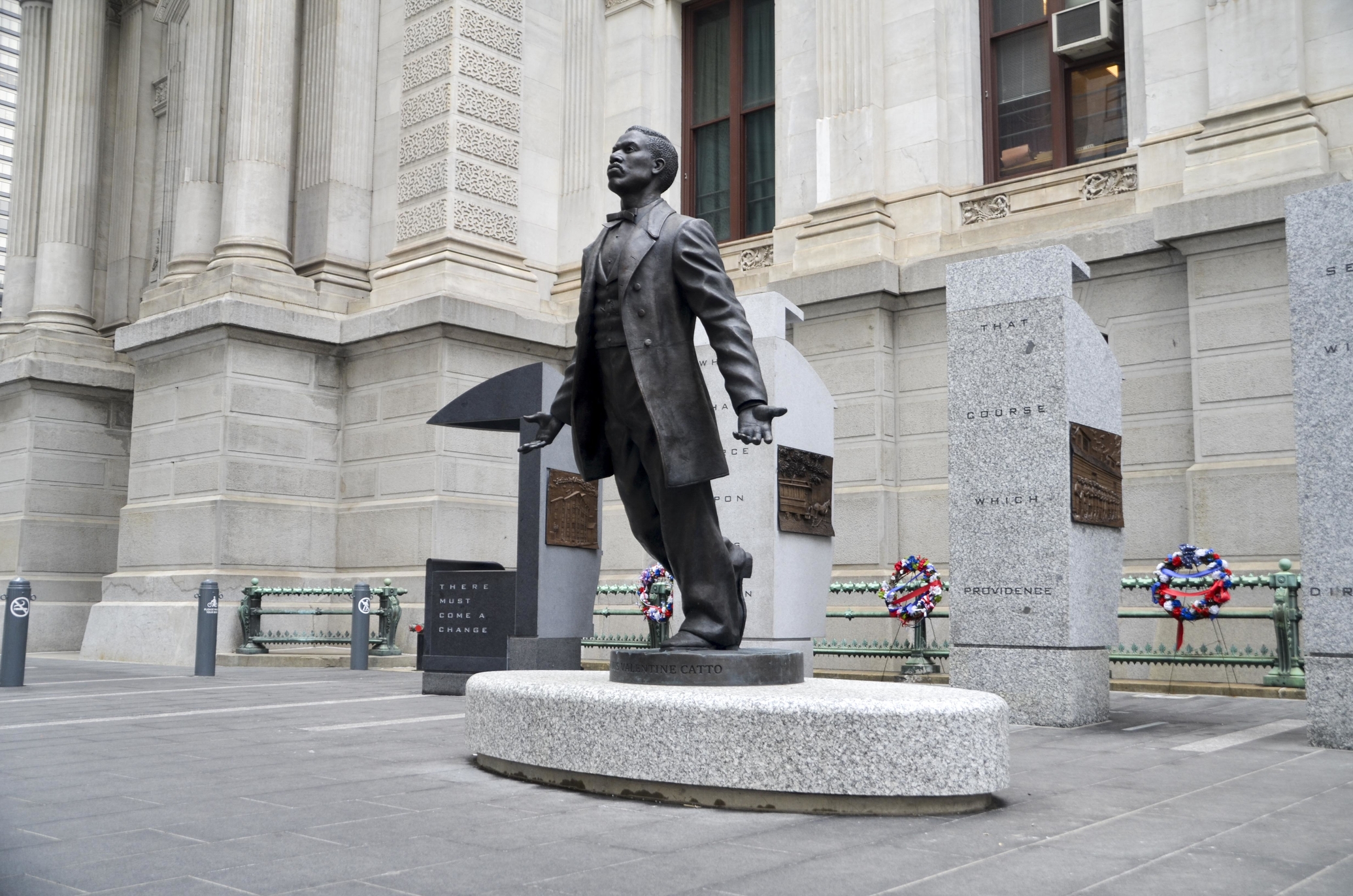 Octavius Valentine Catto (1839 – 1871) was one of the most influential African American leaders in Philadelphia during the 19th century. Inspired by the Civil War, Catto became an adamant activist for the abolition of slavery and establishment of equal rights for all men, regardless of race. He successfully fought for the desegregation of Philadelphia's public trolleys and ratification of the 15th amendment to the Constitution, which bars voting discrimination on the basis of race. In addition to his work as a Civil Rights activist, he was also an educator, scholar, writer, and accomplished baseball player – helping to recognize Philadelphia as a Negro baseball league focal point.
Over 140 years after his death, a monument to Catto was unveiled on the apron of Philadelphia's City Hall.
Catto was only thirty-two when he was shot and killed outside of his home on Philadelphia's South Street on October 10, 1871, the first election day that African Americans were allowed to vote. His activism and efforts to get African Americans to the polls led to his murder – a violent action that was seen as a result of widespread intimidation by whites to deter the black vote.
Over 140 years after his death, a monument to Catto was unveiled on the apron of Philadelphia's City Hall. Efforts to create the memorial began in 2003 when Mayor Jim Kenney, then a city councilman, read about the activist and was surprised that he had never heard of such an influential figure. After learning more about Catto and his life, Kenney approached the Catto Memorial Fund about raising money to erect a monument to the activist.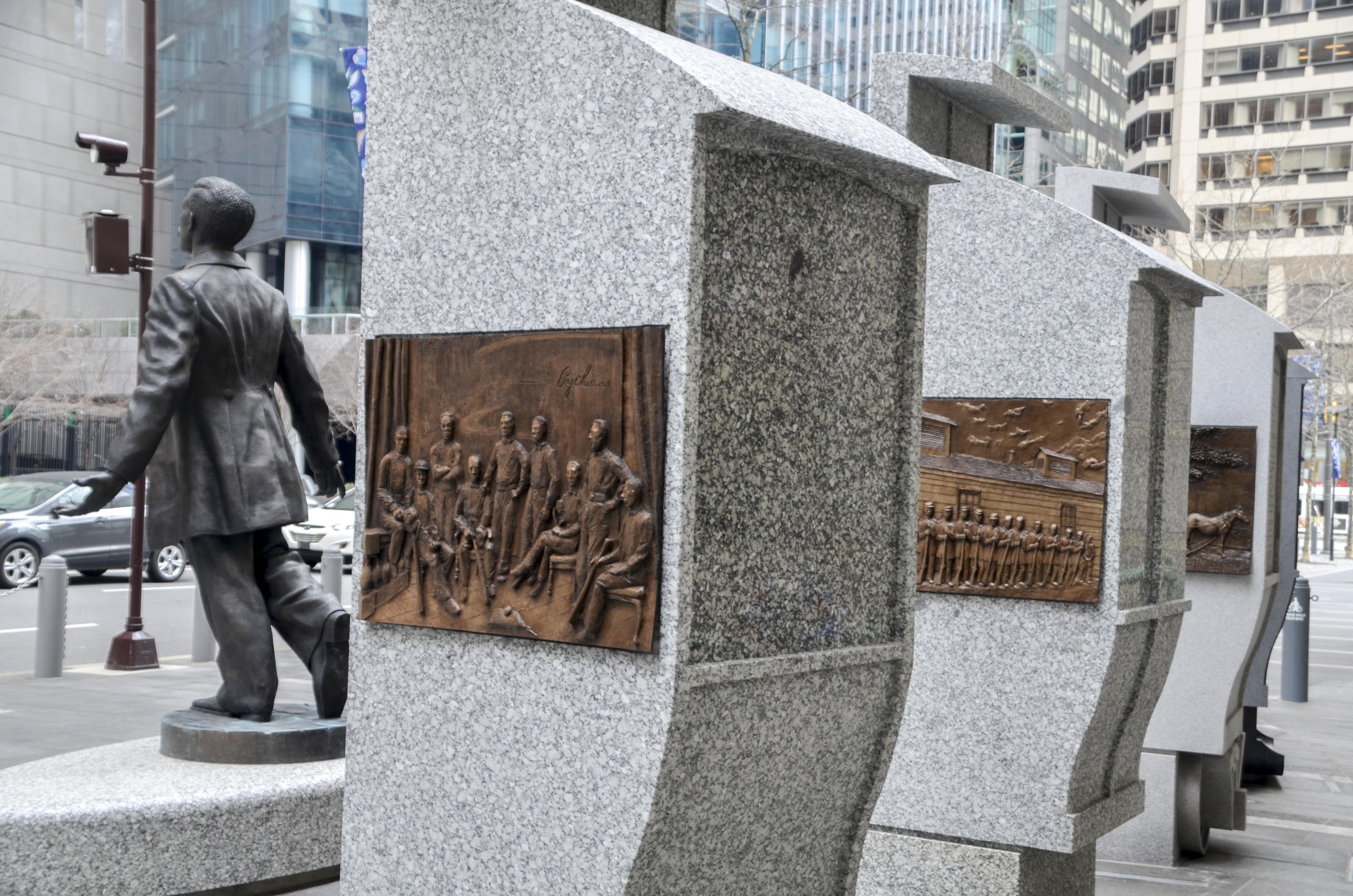 California-based artist Branly Cadet was ultimately selected by a jury of artists and art professionals in 2013 to create the memorial. Cadet studied sculpture at Cornell University, and continued his studies in New York City and France to learn the classical traditions of figurative and portrait sculpture.
The City Hall site for the Catto Memorial inspired Cadet to design a piece that highlighted Catto's political efforts in the city. The 12′ tall bronze statue at the center of the memorial shows Catto mid-stride with his palms and chest facing forward. He walks away from five granite blocks that stand behind him, which represent an 1860s streetcar. He strides towards the stainless-steel and granite box in front of him, which represents a 19th century ballot box. Bronze plaques and inscriptions on the pillars describe Catto's life and inform viewers about how his accomplishments reshaped Philadelphia. The sculpture was unveiled on September 26, 2017.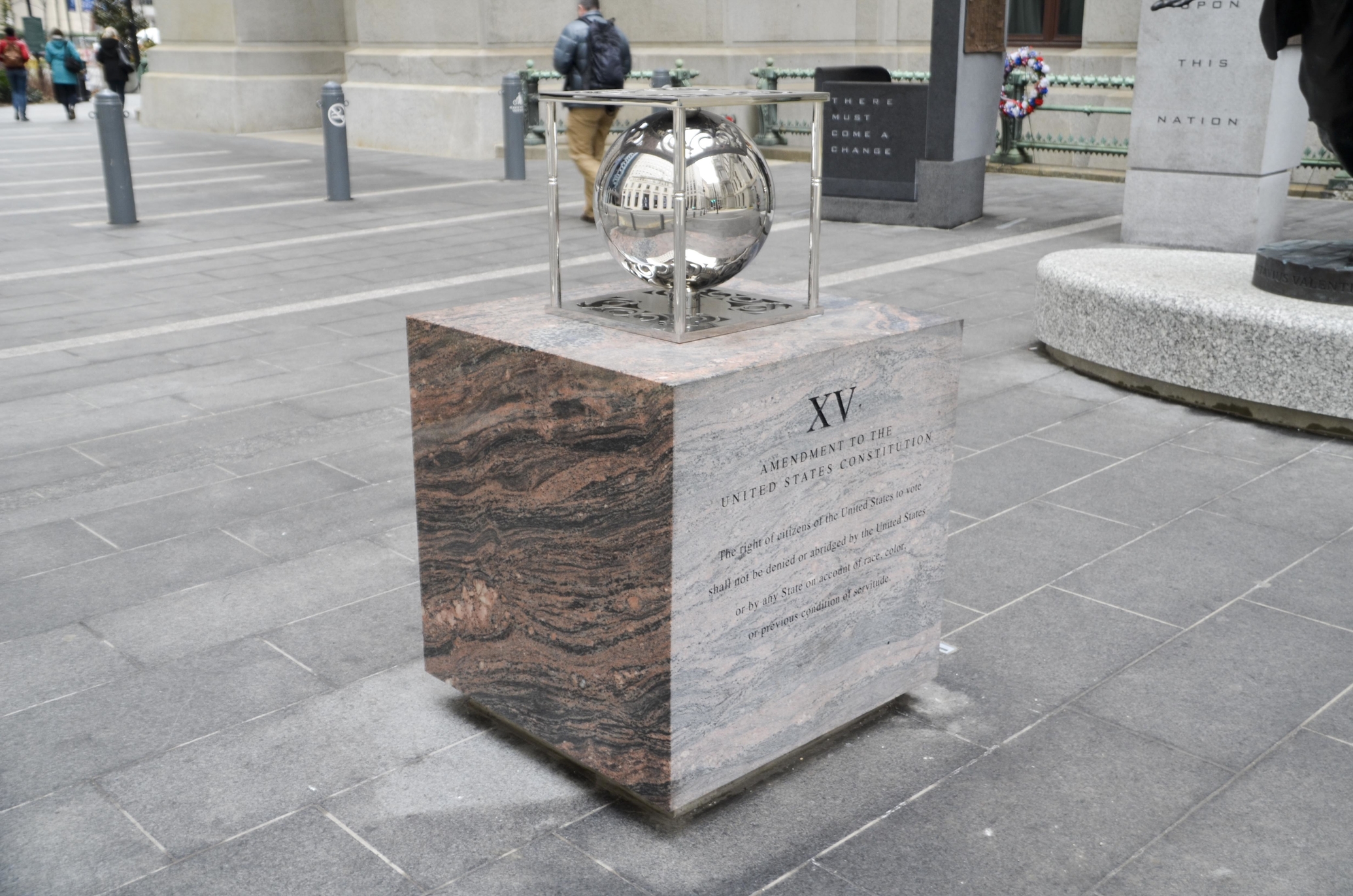 For more information about the Octavius V. Catto Memorial Fund, visit ovcattomemorial.org.
RESOURCES:
This artwork is part of the Around City Hall tour