"By bringing the stoops to the canal, we hope to bring the language of the community to the canal." — artist Diane Pieri
The Manayunk Canal Towpath came alive on September 29, 2006 as neighbors, local business owners, and supporters gathered to celebrate the dedication of Manayunk Stoops. With sea shanties and canal songs lilting in the air, the Stoops were officially donated to the city and accepted into its celebrated collection of public art.
Created by artist Diane Pieri, Manayunk Stoops consists of nine mosaic "stoops" that enhance and interpret the physical and natural environment of the Towpath. The artwork includes imagery inspired by the native flora, fauna, and industrial heritage of the Manayunk area. The artists selected the stoop motif because it is a "symbol of interaction and community." Residents of Manayunk, like those in many other Philadelphia neighborhoods, traditionally sit on their front stoops to socialize.
"By bringing the stoops to the canal," says Pieri, "we hope to bring the language of the community to the canal. The stoops are unpretentious yet meaningful reflections of the people and social customs in Manayunk."
The stairs also relate to another aspect of the community. "Manayunk is built on a large, steep hill," Pieri notes. "An amazing staircase actually runs from the bottom to the top of the hill." Because the neighborhood is literally "stepped," according to Pieri, the stoops become a metaphor for the ascension of the community itself.
The artist created designs for the stoops that reflect the landscape and social customs of Manayunk. Local children participated by creating their own images of the canal and neighborhood that included drawings of fish and turtles. At the dedication, many of the speakers, including the artist herself, reminisced about finding turtles of all sizes along the canal.
The designs also reflect Manayunk's history as a mill town, where cotton, paper, and wool mills prospered. In the 1800's, the textile mills along the canal prodeuced brightly colored wool yarns. Referred to as "Germantown wool" or "Germantown yarn," these materials were used by Native American weavers to craft blankets and rugs.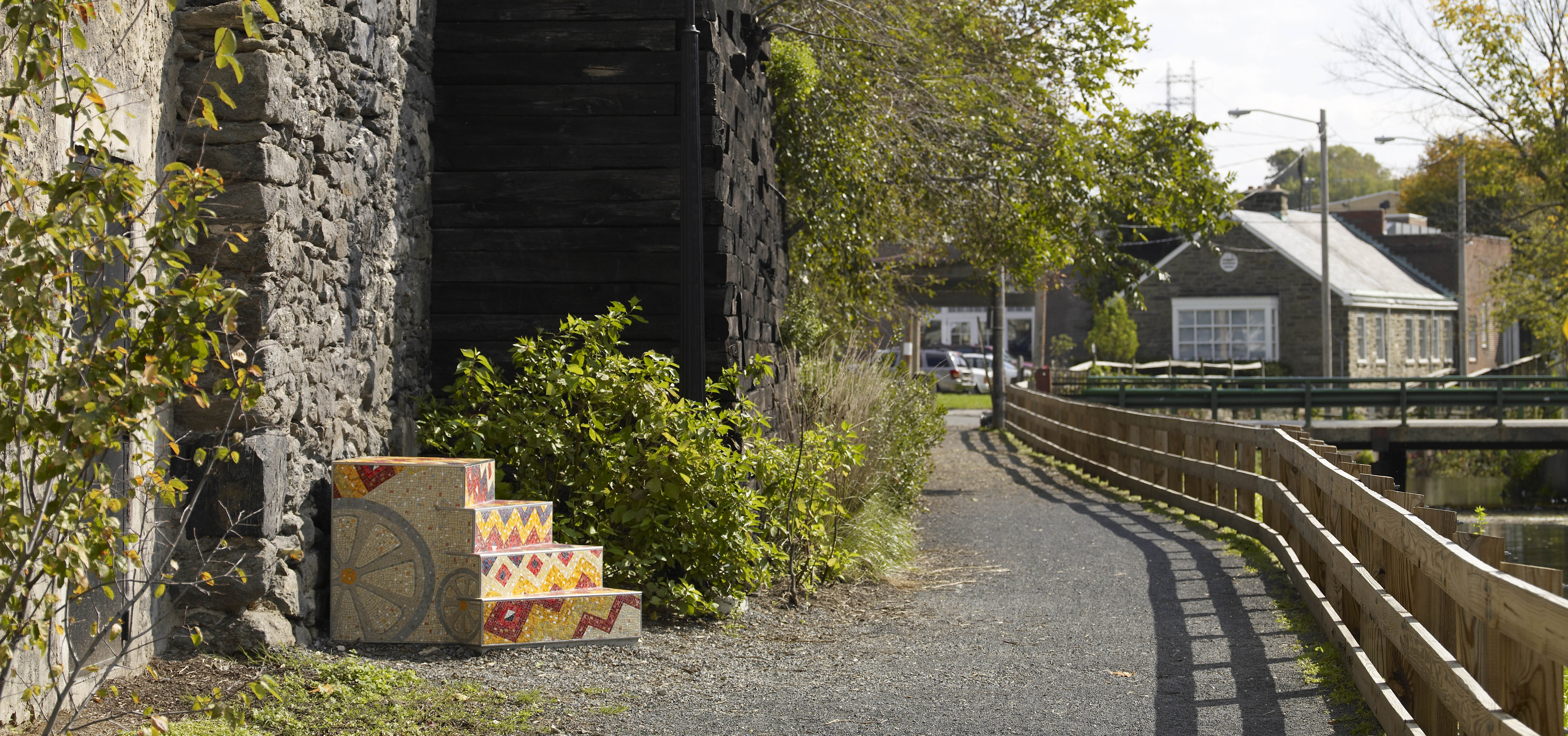 Manayunk Stoops was commissioned through the Art Association's ongoing program New•Land•Marks: public art, community, and the meaning of place and was made possible by funding from the William Penn Foundation, the Pennsylvania Department of Conservation and Natural Resources through the Schuylkill River Heritage Area Grant Program, Samuel S. Fels Fund, Dolfinger-McMahon Foundation, Connelly Foundation, The TD Banknorth Charitable Foundation, and The Dietrich Foundation.