The Association for Public Art is celebrating its 150th anniversary with a series of special events this fall: a virtual speaker series that brings together thought-leaders to reflect on the challenges of stewardship, representation, race, gender and power, and walking tours of the Benjamin Franklin Parkway that explore its art, architecture, history and landscape. All events are free with registration, with limited space for in-person tours. We hope you'll join us!
SPEAKER SERIES
"Insights: The Future of Public Art" virtual speaker series with Tatti Art Conservation, Valerie Cassel Oliver, Karyn Olivier, and Hamza Walker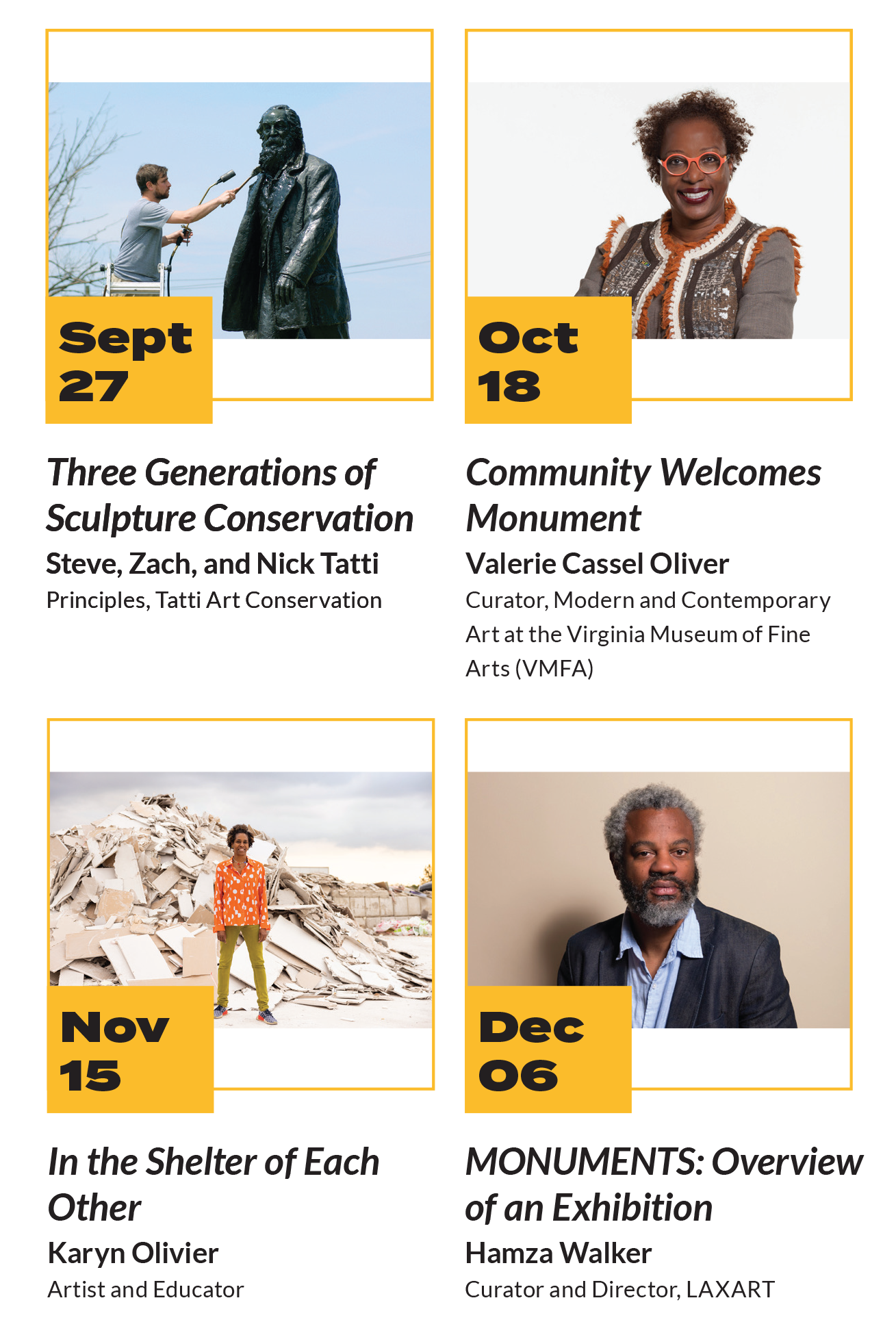 Three Generations of Sculpture Conservation
September 27, 2022, 4pm EST
Steve, Zach and Nick Tatti of Tatti Art Conservation, the principals of one of the nation's oldest art conservation studios share their Venetian restoration ancestry and their 40-year engagement with aPA's conservation program.
Community Welcomes Monument
October 18, 2022, 4pm EST
Valerie Cassel Oliver, Sydney and Frances Lewis Family Curator, Modern and Contemporary Art, Virginia Museum of Fine Arts, considers local and national reverberations of "Rumors of War," the first public sculpture created by artist Kehinde Wiley.
In the Shelter of Each Other
November 15, 2022, 4pm EST
Karyn Olivier, Philadelphia-based artist and educator, discusses the major themes within her work, the challenges and responsibilities of working in the public realm, and the sources of inspiration that have shaped her as an artist.
Monuments: Overview of an Exhibition
December 6, 2022, 4pm EST
Hamza Walker, Director of LAXART in Los Angeles, discusses MONUMENTS, an exhibition featuring decommissioned monuments shown alongside contemporary art, co-organized by LAXART and LA MOCA for fall 2023.
WALKING TOURS
Benjamin Franklin Parkway walking tours with historians Kenneth Finkel and David Brownlee,

art historian

Naomi Nelson, and
landscape architect Susan Weiler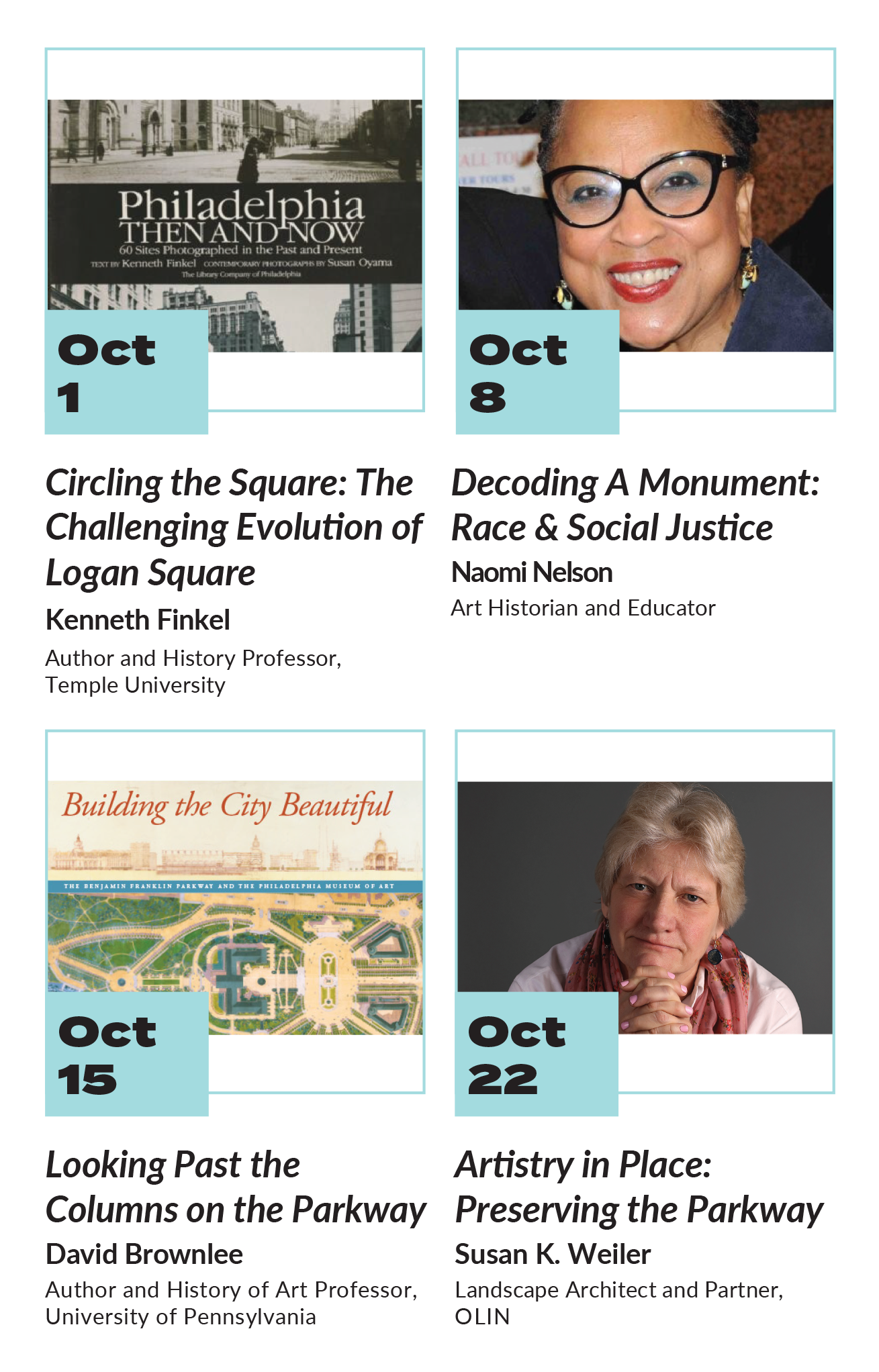 Circling the Square: The Challenging Evolution of Logan Square
October 1, 2022, 10am EST
Kenneth Finkel, professor and author of Nineteenth Century Photography in Philadelphia, leads a tour exploring the circuitous evolution of Logan Square, from a local gathering spot to the historic square it is today.
Decoding a Monument: Race &; Social Justice
October 8, 2022, 10am EST
Naomi Nelson, art historian and educator of African American art, leads a discussion of the All Wars Memorial to Colored Soldiers and Sailors in Logan Square.
Looking Past the Columns on the Parkway
October 15, 2022, 10am EST
David Brownlee, architectural historian and author of Building the City Beautiful: The Benjamin Franklin Parkway and the Philadelphia Museum of Art, leads a tour exploring the complicated human stories and different architectural ideas that lie behind the monumental facades along the Parkway.
Artistry in Place: Preserving the Parkway
October 22, 2022, 10am EST
Susan K. Weiler, landscape architect and partner at the preeminent landscape architecture firm OLIN, will explore the historical context, success and strife of the Parkway's design.