Winter Fountains by Jennifer Steinkamp
December 2017 - March 2018, Benjamin Franklin Parkway, Philadelphia
Presented by the Parkway Council and commissioned by the Association for Public Art (aPA) for Parkway 100, with major support from the William Penn Foundation
Four large fiberglass domes glow with Jennifer Steinkamp's dream-like animated video projections, inspired by Franklin's electrical research and the Parkway institutions
On view November 30, 2017 – March 18, 2018, nightly from sunset to midnight on the Benjamin Franklin Parkway
Domes were installed at Aviator Park, Rodin Museum, Park Towne Place, and Spring Garden Triangle
Steinkamp is a world-renowned video and new media artist and professor in UCLA's Department of Design Media Arts
For Parkway 100, the centennial celebration of Philadelphia's Benjamin Franklin Parkway, the Parkway Council presented Jennifer Steinkamp's Winter Fountains, a major installation commissioned by the Association for Public Art (aPA). Winter Fountains served as a centerpiece of Parkway 100, which includes more than a year of public events and activities planned by the Parkway Council – a coalition of cultural and educational institutions, businesses and residences in the Parkway Museums District. Winter Fountains was on view along the Parkway from November 30, 2017 – March 18, 2018, nightly from sunset to midnight, and was made possible with major support from the William Penn Foundation.
Read the press release here.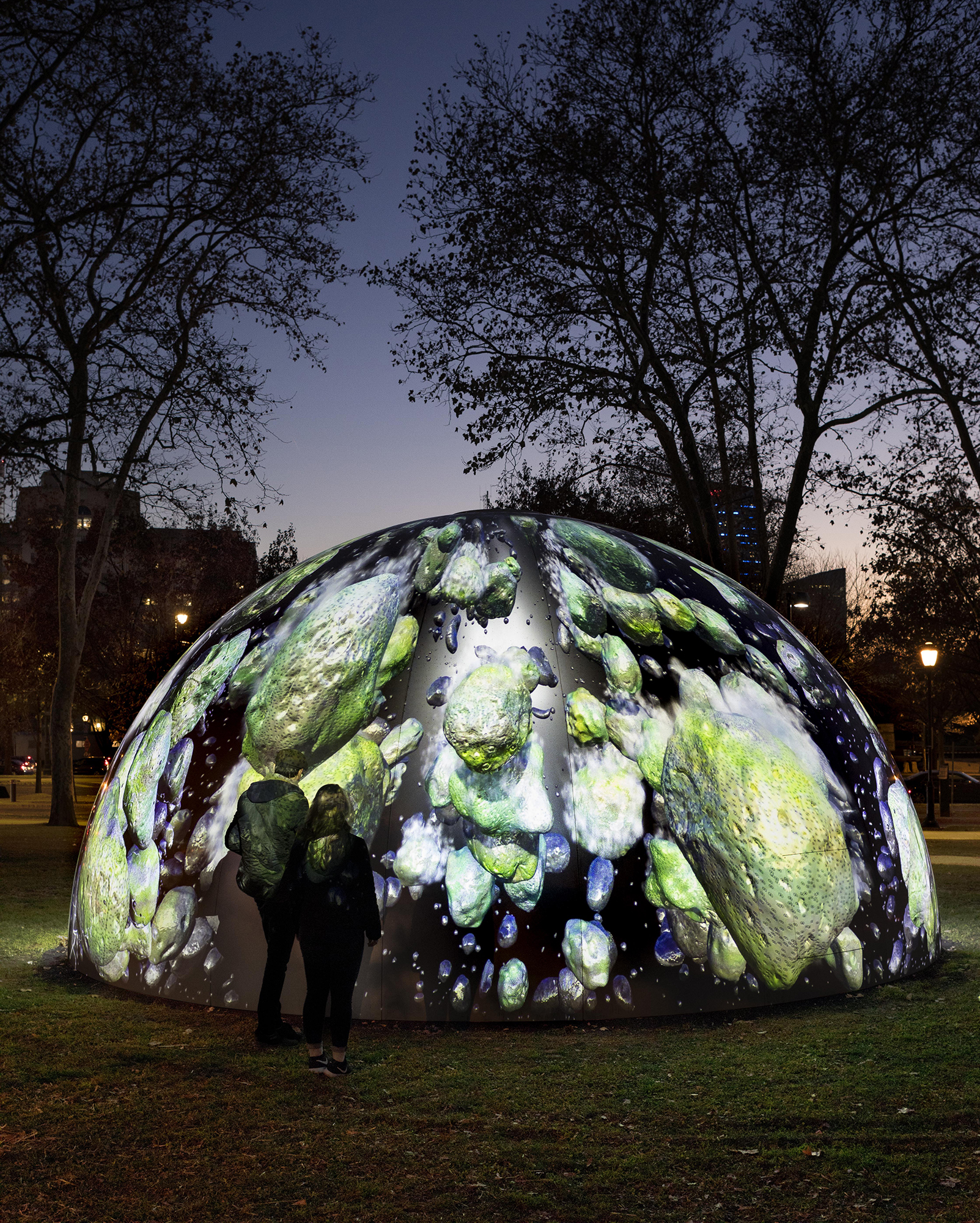 Inspired by the signature fountains of the Parkway, the installation features four 13ft-high and 26ft-wide architectural domes – metaphorical winter fountains – that glow with Steinkamp's phantasmagoric and dream-like animated video projections. Eight digital animations are projected onto the surface of the domes in distinct hues, whether cool green or blue, or warm red/pink or yellow. The imagery reimagines the formation of electricity in clouds, inspired by Benjamin Franklin's research and evoking the art and science explorations represented by the Parkway institutions. It's a celebration of scientific inquiry.
"Anyone who's ever observed water melting and glistening on a piece of ice will get my project," says Steinkamp. She takes a universal observation in nature and magnifies it into an otherworldly experience.
Layers of animations evoke tiny dust particles colliding to create lightning or to spark static electricity; others depict water combusting into gas and steam. Asteroid-shaped particles hurl forward in space and liquid droplets contract and expand in different colors, motions and sequences. Otherworldly constellations of shapes appear to be coming at the viewer, moving up and down or changing directions randomly. In one dome, steam seems to rise in disconcertedly real-looking puffs. Hand-drawn by Steinkamp, cascades of spring flowers also flow through the animation. From asters and blue bells, to lilies and Solomon's seals, plus blue-eyed grasses, columbines, dahlias, irises, lobelias, oxeyes, and phloxes – there are 11 flowers featured, and with the exception of dahlias, all are native to Pennsylvania.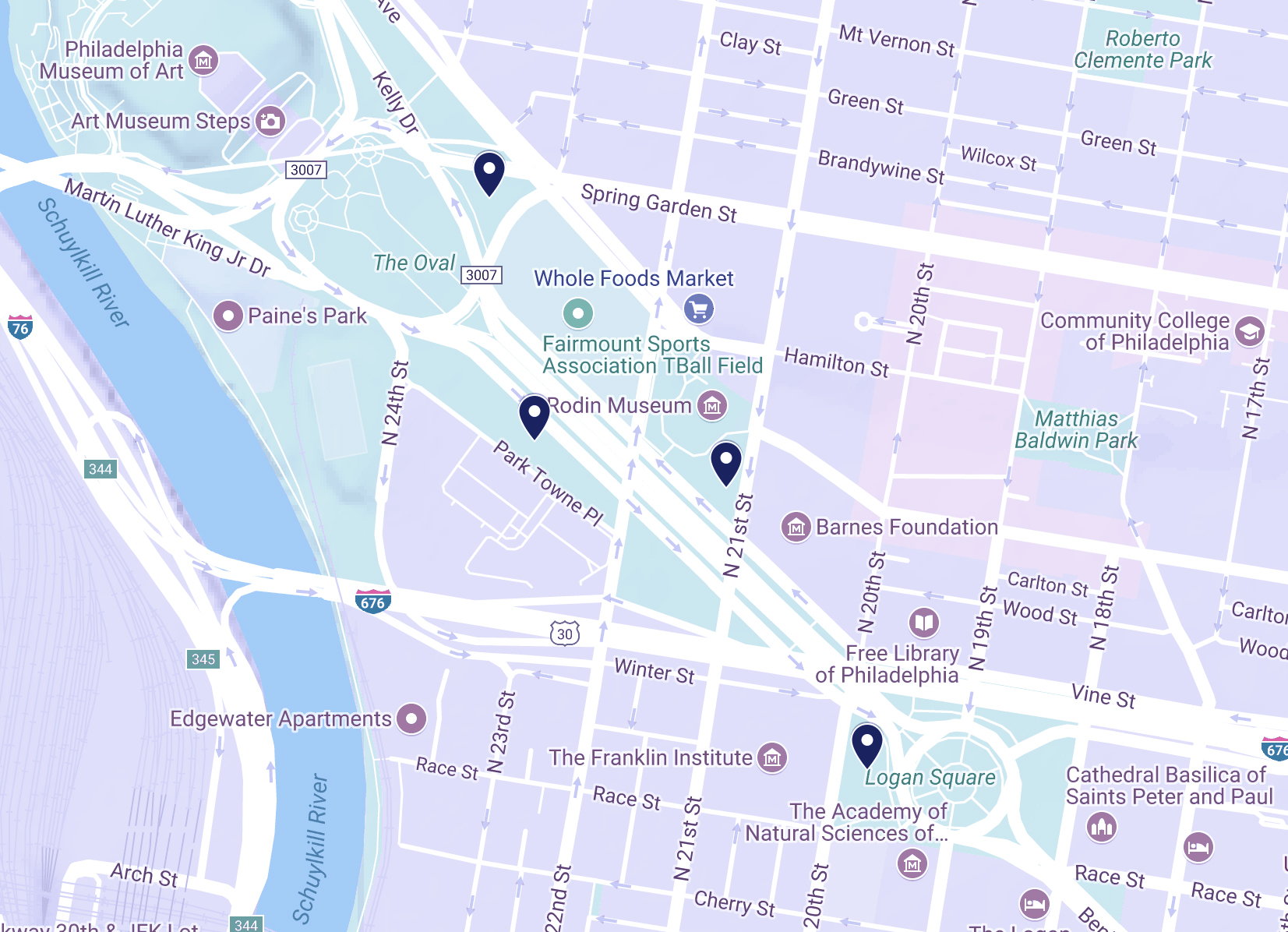 The four domes and 16 video projectors were installed along the Parkway at Aviator Park in front of the Franklin Institute, the Rodin Museum grounds near 21st Street, the Park Towne Place Museum Residences, and the Spring Garden Triangle near Eakins Oval, forming a glowing constellation within a mile-long landscape. Made of fiberglass and embedded with glitter, the "fountains" shimmer in the day and glow in the evening.
For more information about Parkway 100, visit www.parkway100.org
@parkwaymuseumsdistrict @assocpublicart
#WinterFountainsPhilly #Parkway100

Support Winter Fountains!
Your gift will support the world premiere of Winter Fountains in Philadelphia.
Questions? Contact contributions@associationforpublicart.org
Sponsorship
Winter Fountains for the Parkway is presented by the Parkway Council and commissioned by the Association for Public Art (aPA) for Parkway 100 in Philadelphia, with major support from the William Penn Foundation. Additional support is provided by the Association for Public Art (aPA); The Logan, Philadelphia's Hotel; and individual donors. In-kind support is provided by Visit Philadelphia, Pennoni, The Franklin Institute, and Urban Sign. Our partners include the City of Philadelphia and Philadelphia Parks & Recreation.
Parkway 100 is also made possible through the generous leadership support of PECO, PNC Bank, and 6abc.