Address: Ellen Phillips Samuel Memorial, Central Terrace 9 Schuylkill River Trail Philadelphia, PA 19130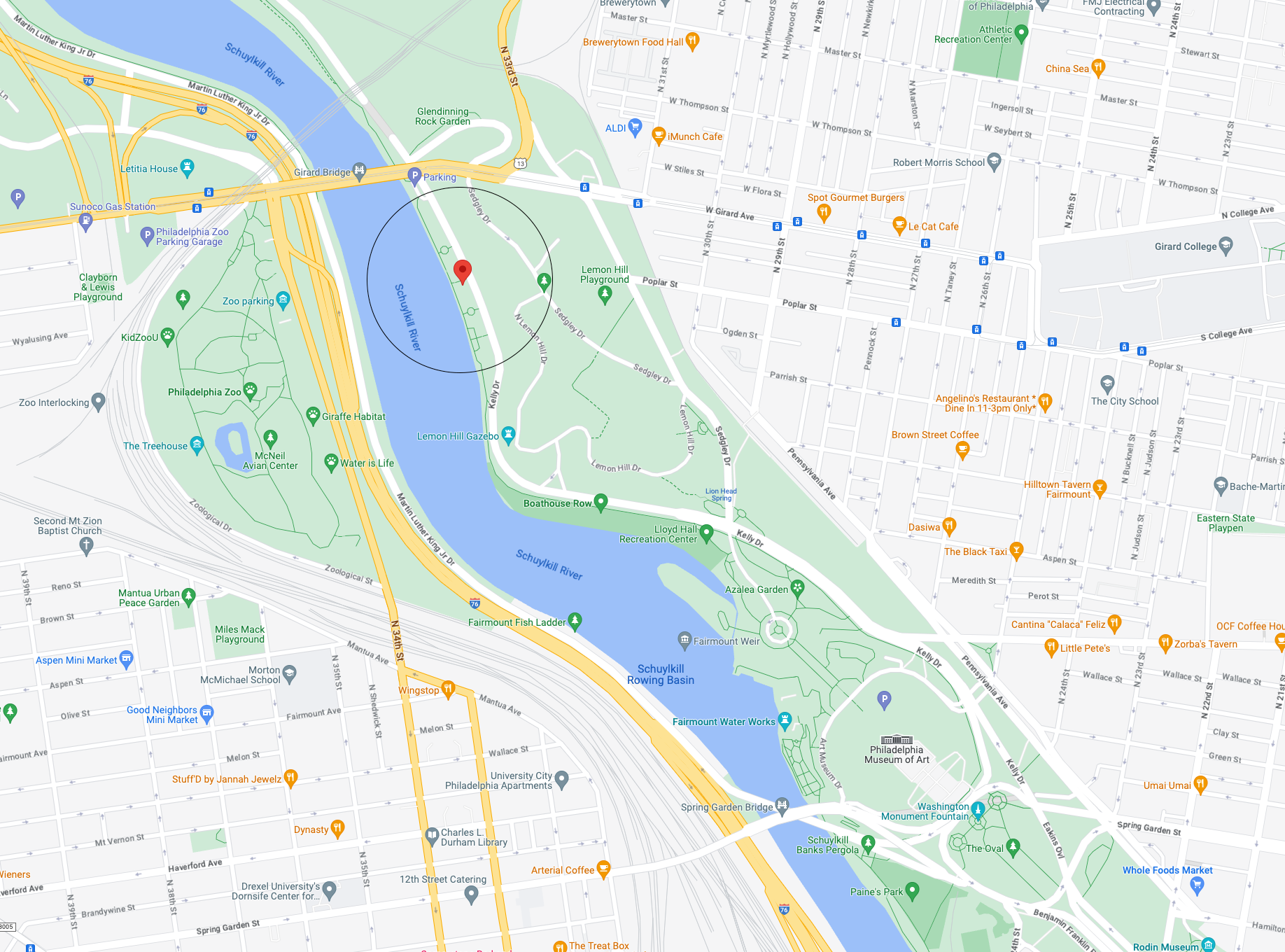 The Ellen Phillips Samuel Memorial is a series of three terraces located along Kelly Drive between Boathouse Row to the south and the Girard Street Bridge to the north.
Pedestrians & Cyclists
The site is easily accessible to pedestrians and cyclists via the Schuylkill River Trail, which runs along the eastern bank of the river right past the terraces of the Memorial alongside Kelly Drive.
Taxi & Ride-Share
There is a small parking lot immediately south of the Girard Street Bridge that can be used for drop offs. Note that this lot should only be used to drop off and pick up. Parking here is restricted to our vendors and those who need handicapped access.
Driving & Parking
If you are driving and need to park, the nearest parking lot is the Oval Parking Lot between the Art Museum and Lloyd Hall, near the Azalea Garden. It is a 10-15 minute walk from the parking lot to the Memorial, and there will be directional sidewalk stickers leading to the site starting at the end of Boathouse Row.
Transportation options via SEPTA:
32 bus (direction Ridge-Lyceum): Poplar St. & 30th St stop, and about a 15-20 minute walk from there (approximately 1 mile)
48 bus (direction 27th-Allegheny): 27th St. & Brown St. stop, and about a 15-20 minute walk from there (approximately 1 mile)
49 bus (direction 33rd-Dauphin): Pennsylvania Avenue & 29th St stop, and about a 15-20 minute walk from there (approximately 1 mile)
7 bus (direction 33rd-Dauphin): 27th St. & Brown St. stop, and about a 15-20 minute walk from there (approximately 1 mile)